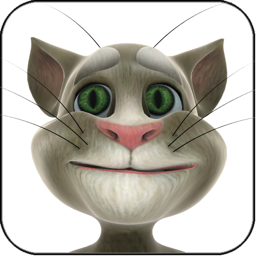 Talking Tom Cat is an app available in the iTunes App Store for free. It is also the first Talking Tom and Friends app, and it features the series' flagship character, Talking Tom. Tom also appears in Talking Tom 2 and Talking Tom & Ben News. The app also introduces Larry the Bird, who would later get his own app.
Free Features
Edit
Tom drinks a carton of milk.
Tom scratches the screen.
Tom repeats what you say in a high-pitched voice.
Paid Features
Edit
Tom will get gas.
Tom will throw a waffle on the screen.
Tom will try to eat Talking Larry, but fails.
Tom will make a loud noise with a pair of cymbals.
When Entering
Edit
Other Features
Edit
You slap Tom and sometimes he falls unconscious on the ground.
You Stroke hum on his tummy or face and he purrs.
You poke his tummy and he makes a sickly noise.
You pull his tail and he screams.
You poke his feet and he yelps.